We are very pleased that Tookey's is now open again each day (except Thursdays and Sundays.)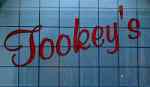 Our church runs a coffee shop named after one of the early leaders of the church, Job Tookey. It serves a variety of teas and coffee, meals, sandwiches, soup, scones and cakes. It is staffed by a part time paid manager and a team of hardworking volunteers.
More Tuck In at
Café
We are very grateful to the volunteers who help run Tookeys. If you think you would like to volunteer, then please contact our church office to let us know. Through volunteering you will meet new people and enjoy taking an active part in our local community. Whether it's for a short session of two hours during the week or a slot on Saturday, you will be well trained and supported in the service of our yummy hot and cold dishes and drinks.
JOIN US –
NEEDS YOU!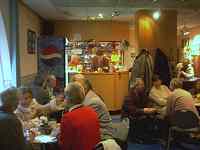 For further details, please contact the Church Office 468535 (9am – 1pm on Mondays, Wednesdays and Fridays.)